Align Your Brand With Excellence
P-H-M naming rights is an investment in education.
Why Naming Rights and P-H-M?
The world is changing rapidly for public education. Funding is being cut while the academic demands on our students continue to rise.
Penn-Harris-Madison School Corporation has been continuously recognized for excellence—an A rated school district with nine Four Star Schools and four Blue Ribbon Schools. Led by Dr. Jerry Thacker (2012 Indiana Superintendent of the Year and 2017 Outstanding Educator of the Year), the District provides extraordinary learning opportunities to all students using P-H-M's Triangle of Success model.
The P-H-M Education Foundation, in conjunction with P-H-M School Corporation, has launched a naming campaign to support our endowment.
In our pursuit of excellence, the Foundation's endowment will provide permanent additional funding of programs for outstanding students and teachers.
Naming rights is a 12 year partnership, payable over 5 years, that highlights a commitment to excellence in P-H-M. Signage will include name and/or company logo that will be associated with a specific property or program within the Corporation.
We invite you to be a part of a large and diverse group of individuals, professionals, and companies who support excellence in education. With our donation form you can specify who your donation is in the name of. Make a donation on behalf of another person, or even get a group of people together to pool your donations together. (ex. The Class of '78)
The menu of naming rights is ideal for alumni classes, student groups, and more!
Friends and colleagues can work collectively to name a class, lab, or hallway as a way of supporting a high school activity or P-H-M staff member (past or present) who made a lasting impact. Coming together as a group can be a lasting example of excellence in education.
Below are some examples of naming opportunities.
Click below to donate now.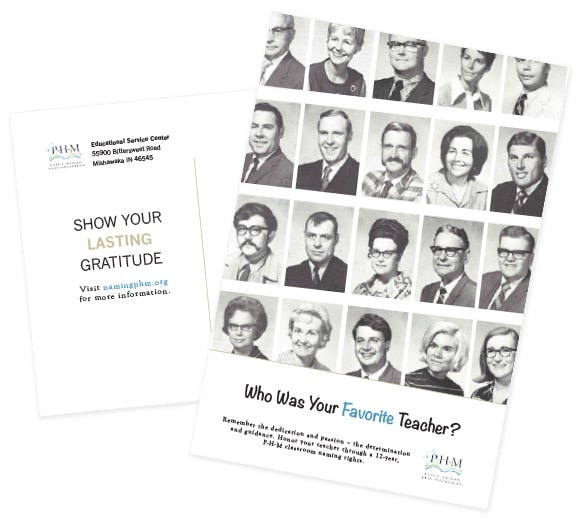 Elementary, Middle, High Schools



Elementary, Middle, High Schools

Elementary & Middle Schools

Elementary & Middle Schools
Partnership with the P-H-M School Corporation and the P-H-M Education Foundation will support award-winning educational programs.
Naming rights build upon true partnerships with parents and area businesses. These opportunities extend into the classroom through professional development and innovative students programs
For more videos like these and other interesting P-H-M related videos…
Lionshead Specialty Tire and Wheel Donates $50,000 to P-H-M Education Foundation
As part of the contribution, the Lionshead logo will be installed in the turf in July 2023. The logo will remain for the life of the field or 12 years whichever is first.
Lionshead has a longstanding community partnership with P-H-M and the Education Foundation. Lionshead Specialty Tire and Wheel named the Penn High School Soccer Field in 2014 with a $25,000 contribution; the contract will be up for renewal in 2026.
"Having a long-standing relationship with the Penn School System, we thought it was a perfect fit for us to give back to the education foundation and the legacy of the baseball field. It is just important to us."
BOB HAYDEN
General Manager, Jordan Automotive Group
"What attracted me to the P-H-M Education Foundation's naming rights was the ability as a past graduate and business owner to put my advertising dollars toward a 12-year commitment that will then allow the Foundation to use that money toward helping kids, parents, and teachers."
STEVE NELSON
Owner, Tradewinds Family Restaurant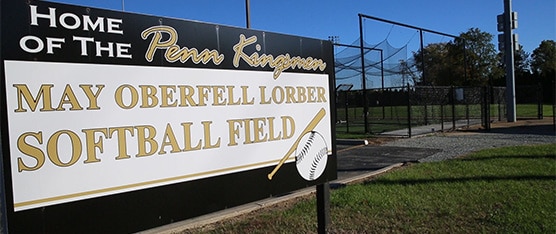 "Through the naming rights, we are able to associate with one of the most prestigious organizations in the county – that being Penn-Harris-Madison."
JEFF JOHNSON
Partner, May Oberfell Lorber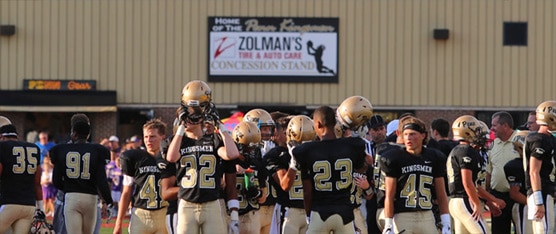 "We represent family values and doing things right. So does the education foundation. You have high-quality, like mind organizations. I feel if we can align with first-class organizations, we will do nothing but help the organization."
NATE ZOLMAN
President an Owner, Zolman Tire Care
For Partnership Inqueries contact:
Jennifer Turnblom
Executive Director
(574) 254-2893